Emergency Care Veterinarians
MEET OUR EMERGENCY CARE TEAM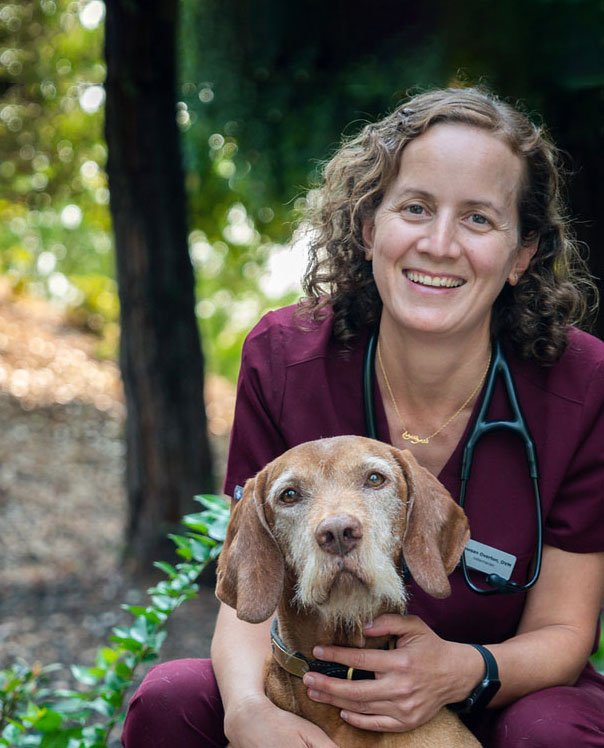 CHIEF OF EMERGENCY MEDICINE
In the words of Mark Twain- " Find a job you enjoy doing, and you will never have to work a day in your life". Dr. Overton is beyond grateful for the path that brought her to IVWC. "I am surrounded by an amazing, empathetic, hard-working, animal-loving staff every day. I get to be there for the animals. I get to be there for their family during a stressful vulnerable time and help them through it. It combines three things that I love most- animals, healing, and human connections".
Dr. Overton's participated in her first veterinary procedure when she was 10 years old, when she helped restrain her neighborhood cat for a veterinarian to clean an abscess. That was when she knew she wanted to be a veterinarian. An encounter of a surgery team recovering a horse while leaving one of her veterinary classes at school set her up for her first career path.
She spent the first 15 years of her career working to become a horse surgeon. She graduated from University of Veterinary Medicine in Budapest Hungary in 2002. She moved to Belgium to train at the University of Liege then to Ontario Veterinary College in Canada. And finally, the University of California in Davis where she completed a surgical residency in equine surgery. It was during her time at UC Davis that her mind started wandering towards small animal emergency and surgery.
She took the plunge and changed paths in 2012 and never looked back. She completed a rotating internship with an emergency emphasis at a the Sacramento Veterinary Referral Center. She worked at a 24 hour emergency clinic at Elk Grove shortly after and now joins IVWC as an emergency doctor.
She lives in Davis with her husband who is a WildLife Biologist, her five year old daughter, their Wire-Haired VIzsla and a Birman cat who joins their neighborhood walks. She can be found with her family camping, hiking, or on her own reading a book on how to be a better human being.
Dr. Behnke is thrilled to join the Insight Vet family! Originally from the Bay Area, Dr. Behnke spent her high school years fostering kittens from the local SPCA. She raised dozens of kittens ranging from bottle babies to mamas with their litter of kittens.
After graduating from high school, she moved to New Orleans to attend Tulane University. She was involved in a jazz ensemble as the vocalist and was passionate about her a cappella group, Green Envy.
She was also very active in the local SPCA and got her start as a veterinary clinic volunteer where her foundation in veterinary medicine was built. She also spent one spring break in Nicaragua on a spay and neuter campaign with World Vets.
Dr. Behnke attended Ross University for her veterinary degree. She was the fundraising chair and was active in the emergency club. She attended Auburn University for her clinical year, where her passion for emergency medicine blossomed. Dr. Behnke completed a rigorous year-long internship with emergency emphasis at California Veterinary Specialists in Southern California.
Since the completion of her veterinary training, Dr. Behnke has worked at several specialty referral centers providing emergency care throughout California. She also dipped her foot into general practice prior to coming to IVWC to be able to provide clients and their pets a more well-rounded approach for their emergency visits.
Dr. Behnke lives in Sacramento with her partner Rob, who is a dentist. They live with their three cats, Nola, Mila and Evy. In her time off, Dr Behnke can be found traveling the world, biking the river trail, or exploring California's food and wine culture.
Dr. Quan is a California native who has wanted to be a veterinarian since he was a young boy. Prior to his formal education he worked as a kennel/veterinary assistant in the east bay area.
He received his Bachelor of Science degree in Animal Science from the University of California, Davis and his Doctorate of Veterinary Medicine degree from UCD in 2017. After graduation, he started as a general practitioner but quickly moved into emergency medicine at a busy 24-hour practice in Elk Grove. He has a passion for emergency work as well as soft tissue surgery.
Dr. Quan currently resides in Sacramento with his partner and all their furry family members, including 4 cats, a small poodle mix, and his loveable golden retriever. When not in a clinical setting, he enjoys camping, hiking and the great outdoors and will never miss an opportunity to be out on the lake water skiing.
Three-year-old Katey told her father "she wanted to take care of the animals."
From the age of 17 Dr. Wahlen has worked every job in the veterinary world from dog bather, receptionist to veterinary assistant. "I have a deep love and respect for my patients, clients, staff and the magic of what medicine can achieve."
Born and raised in southern New Mexico, Dr. Wahlen received her BS in Biology from New Mexico State University.
During her undergraduate studies, she met a wildlife vet who offered her a dream opportunity… come to Belize and help establish the first wildlife veterinary hospital in the country. During her time in Belize with Dr. Isabelle Paquet-Durand, Dr. Wahlen helped the Peace Corp put on Spay and Neuter clinics, bottle fed orphaned manatees and rehabilitated parrots and monkeys.
This experience solidified her love and resolve to pursue veterinary medicine. She received her Doctorate of Veterinary Medicine from Ross University in 2017 with her clinical year completed at the University of Minnesota. Dr. Wahlen then went on to complete a small animal surgery and medicine internship at the famed VCA Alameda East Veterinary Hospital where Animal Planet filmed the show "Emergency Vets" in Denver, CO.
Dr. Wahlen moved to the city of trees on a whim several years ago on the urging of friends. They claimed she would love it and they were right. She has done overnight emergency practice, been on call for emergency surgery and even managed a small local practice within the Sacramento area.
In her spare time, Dr. Wahlen, is usually trail running in the Sierra Nevadas with her German Shepherd Neeko and Australian Shepherd Ember, SUP or working out at her Crossfit gym. Her cat, Chile Pepper, came into her life as a patient. He was going to be euthanized after he shattered one of his front legs. After a 2am emergency surgery, he now lives with her as the boss of the house. When in the hospital, we refer to him as Dr. Pepper.
The first word Dr. Nola ever spoke was "kitty" and she has been passionate about all animals ever since. Admittedly, she has a soft spot for cats and has fostered countless litters of orphan kittens over the years.
She attended college at UC Davis with a major in Neurobiology, Physiology, and Behavior. During that time, she worked as an ICU technician at the veterinary school's equine hospital and as a research assistant in the J.D. Wheat Orthopedic laboratory. She then attended veterinary school at UC Davis where she took an active role in student leadership. After school, she worked at a busy emergency and general practice in Elk Grove before coming here to Insight – where she is very excited to be joining the team!
Dr. Nola believes it is important to give back to the community. She feels fortunate to have been trained in veterinary emergency response and has volunteered her time at the Napa, Paradise, and most recently Caldor fire evacuation sites. She is also a member of the board for the local Sacramento Valley Veterinary Medical Association.
In her free time, Dr. Nola can be found riding her horse Jett, backpacking in the Sierras, and enjoying good food with friends. She lives in Midtown Sacramento with her partner George and their two pets – a Boxer/Pitbull mix named Chuck and a big fluffy cat named Remy.
Dr. Cody was born and raised in Southern California to schoolteacher parents, where he developed an appreciation for curiosity and dedication at an early age. He began volunteering at local animal shelters in grade school where he decided that a career in veterinary medicine was for him. He got a job cleaning kennels at a busy small animal practice when he was in high school and has not looked back since.
After graduating from UC San Diego with a bachelor's degree, Dr. Cody was accepted into the College of Veterinary Medicine at Washington State University (go Cougs). Since graduating vet school, Dr. Cody moved back to California and has been working in small animal hospitals in both general practice and emergency settings with a special interest in blood transfusion medicine.
Dr. Cody loves meeting new pets and their families. He truly appreciates the power of the human-animal-bond and finds fulfillment in being an honest and reliable resource for pet owners in times of need.
Dr. Cody and his amazing wife, Julia, share their home with a large housecat, small fluffy dog, and desert tortoise. When not working, Dr. Cody can be found somewhere outdoors with his wife hiking, camping, or skiing. Dr. Cody also enjoys sharing his love of animal medicine with others. He routinely volunteers for career days at elementary and middle schools to help spark interest in veterinary medicine and be an approachable role model for younger generations.